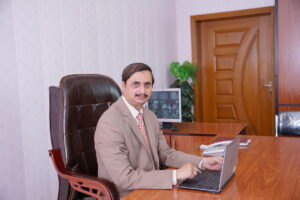 I extend a very heartfelt welcome to the capable and potential, students of Iqra Girls College, a prominent name of higher education backed with academic excellence and adhesion.
Our district is facing many problems regarding female empowerment, despite a large number of intellectual minds and nation builders. It is just because, the family setup feels insecure to send their daughters in co-education system. In this scenario, Iqra Girls College proves to be a blessing in disguise for them, providing the totally secure environment for our females to empower themselves and the whole society. We are committed to focus on each student and aim to nurture each of them and ensure their journey at Iqra Girls College to be successful and career provocative experience. We strive to impart purposeful education to the youth under the shadows of Islamic values. My whole team works with sincerity by putting their hearts in their profession and I am totally confident and optimistic that they will contribute with same passion in future.
It is a matter of great pleasure that the college is contributing effectively and efficiently in fostering its students to be the better humans. The acceptance of our degree speaks for the popularity and roguishness of the college.
May Allah Almighty confer His blessings upon all of us (Ameen)